Morel and Ramp Foray and Cooking Class
Apr 22, 2017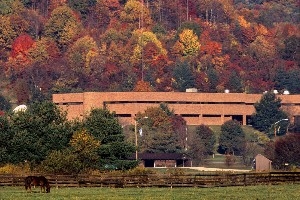 10:00 am - 4:00 pm.
Instructor: Homer Elliott, Chef Vincenzo -Enzo- Sclama
Did you know there are more than 2,000 kinds of wild mushrooms that grow in Ohio. Of these, the morel is one of the first collected in spring, and most abundant from the first of April to the first of May. Equally as abundant is the ramp, also known as the spring onion or wild leek. Both the morel and ramp are edible and can make a variety of your spring dishes come to life.
For this class, biologist and ecologist Homer Elliott will guide participants on a foray through the foothills of Appalachia in search of the morel and ramp. Homer will guide you through the forest discussing the fundamentals of edible mushrooms and wild onions. You will learn about the ecosystem, terrain and other clues to increase the likelihood of finding edibles.
After working up an appetite from the forest tromp, participants will gather for a cooking demonstration by Master Chef Vincenzo Sclama at the Lodge at Hocking College. Chef Sclama will share delicious recipes that incorporate the morel and ramp and include proper handling, storing and cooking edibles. You will not want to miss this one-of-a-kind experience.
Cost: $65 per person
Contact
3301 Hocking Parkway
Nelsonville, Ohio 45764
Phone: 740-753-3531
Interest Tags
Special Interest,
Additional Events
Nearby Activities and Attractions